NewRez's Correspondent Lender Guide has been amended to include the following:
Updated Relock Options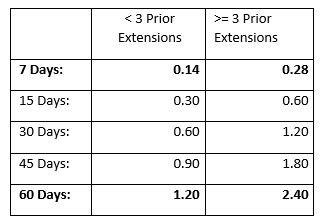 Mandatory Bulk Desk Policies and Procedures
Please send all bid tapes to bulkbids@newrez.com. Bid lists should include minimum loan elements for pricing, lock term (delivery date), and when bids are due.
Bid tapes sent to NewRez will generally be processed within one hour and will provide loan level pricing and corresponding strike prices. Operational hours are 9:00 AM – 4:30 PM EST.

Once the correspondent lender notifies NewRez of loans to commit, pricing will be refreshed for any market variance of greater than +/- 1 tick from original bid based on current coupon. NewRez will provide final pricing confirmation with loan level pricing and corresponding strike prices. NewRez will provide final trade confirmation containing NPF loan number as well as all trade related information.

All bulk trades are considered mandatory deliveries and cannot be cancelled, with no replacements allowed. Correspondents are responsible for managing their commitments. A pair-off will occur due to non-delivery by delivery expiration date, inability to cure suspended loans, or specific request from the correspondent to cancel. In the event of a pair-off, any money due to NewRez will be based off the current strike price at time of pair-off vs. confirmed strike price at time of bid.
Purchase Review and Purchase by Date Calculation
All loans are expected to be delivered for purchase by the lock expiration
Once the loan is delivered for purchase, the Purchase by Date will become the new expiration and will be calculated as:

Greater of the lock expiration or 10 calendar days from date delivered for purchase

If NewRez detects a deficiency in the closed loan package during the funding review process, a Lender Suspense notification will be sent to the Lender. All prior to purchase conditions will be on the portal for review and uploading.
If the deficiencies are not received by NewRez by the purchase by expiration date, the Lender will begin accruing an extension fee of 2 basis points per calendar day beginning on the day after the purchase by expiration date.
The purchase by expiration date may only be extended for a maximum of 30 calendar days.
If the loan is not in fundable condition by the end of the 30 (calendar day) expiration, the lock will be subject to a 15 day relock and the applicable relock fee, plus all extension fee charges that have accumulated.
NewRez reserves the right to return the closed loan package to the Lender and the Note (if applicable) to the appropriate party per the bailee agreement should the Lender fail to clear all the suspense items by the end of the 30 calendar days.
NewRez will not be obligated to purchase a loan should the Lender fail to deliver all the required suspense items within our allowed cure period.